Albert Hall
Last modified: 22 May 2006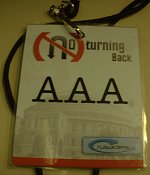 It was only a few months ago that I visited the Royal Albert Hall in London to see Delirious? support Michael W. Smith. The d: boys were playing at the same venue again on Saturday as part of an event called 'No Turning Back' for the Crusaders youth organisation. It really is one of the most stunning music venues I've ever seen. Perfectly circular, incredible architecture and about 5 different levels of balconies running round the circular walls of the arena. I arrived at the Albert Hall at 5pm and was met at the stage door by Colin Walker, the band's monitors engineer for the night - making a guest appearance on the crew for the first time in ages. After sorting out my pass, Colin led me to the Delirious? dressing room where I found Martin and Stu doing some press interviews and Jon sitting in the corner warming up with his bass.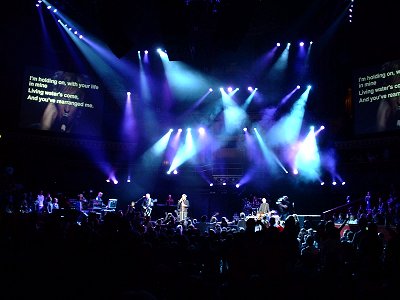 It was a slightly unusual gig in that band and crew had done the sound check at 9am before having a long wait till Delirious? were due on stage at 5:50pm. So the band had brought their families along with them and spent the day seeing the sights of London and visiting a few museums. Jon explained that they were planning on bringing their wives and kids on stage during the gig. I commented that this would be unusual for a UK gig since it's something they normally only do in the US. Later Jon said to Martin that a 'reliable source' had told him they'd never taken their kids on stage in the UK. Martin replied with, "Other than at New Life and Soul Survivor you mean?". Tim then pointed out that Jon's reliable source wasn't quite so reliable. Oh dear, there goes my reputation. In the band's dressing room I chatted with the guys for a while (they have some exciting plans lined up for their forthcoming DVD) until it was time for their pre-gig prayer. With everyone's eyes closed, Martin suggested that Stu do the prayer today. A silence followed as Stu and Stew looked at each other, shrugging, unsure which one he was referring too. Refreshing to know that even the band struggle with the whole Stu/Stew issue. We all head out to stand by the door that leads to the stage, only to find that the show is over running and it's not quite time. Finally it's time and the band walk out onto the stage and the crowd goes wild.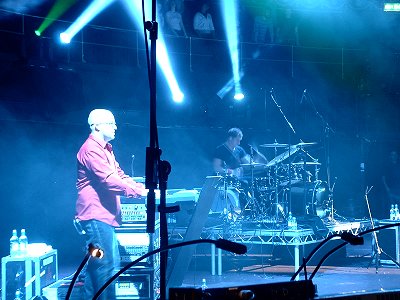 Having spoken to Colin earlier, I thought I'd watch the first part of the gig whilst stood next to him at the monitors desk on stage. As I crept down the side of stage I was slightly alarmed to discover that the desk wasn't there - it's ALWAYS on Jon's side of the stage, but for some reason it was on Stu's side this time. I then spotted Colin doing some mid-show heroics on Stew's drumkit which was clearly causing some problems. Having spent some time on either side of the stage taking photos I headed round the endless Albert Hall corridors in search of some other photo opportunities. Whilst the event's crew had all been quite content to let me take photos on stage (one asked what I was doing but quickly backed off at the sight of my AAA pass) the red-coated house staff had their own agenda. Each time I found a spot at the back of the crowd, or in a balcony, or at the top of a stair case, one of the red-coats would allow me approximately 30 seconds before heading over and telling me that photographs weren't allowed. They weren't to be persuaded by my pass or even my smile, so I spent less than a minute in each position I found before moving on to the next one.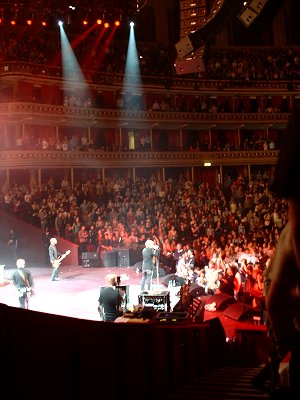 Towards the end of Delirious' set I headed back to a side of the stage position and stood amongst some of the event crew who were frantically checking their watches and whispering to each other "Is this the last song?". The band had been forced to cut a couple of songs from their set list due to the overrun and a strict ending time. Once it was decided that Our God Reigns was indeed the final song, a lady spoke urgently into her portable radio "Do it now!" and hundreds of balloons being stored in the ceiling were released down onto the crowd. It was a nice idea, but the sight of hundreds of kids having balloon fights and the constant bang and pop of bursting balloons didn't really enhance the spiritual nature of the final song!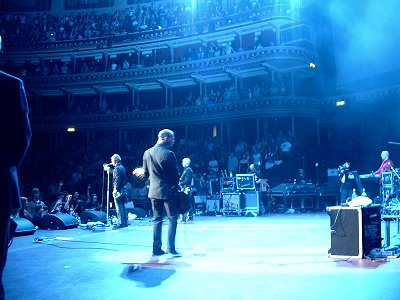 The Delirious? boys walked off the stage and I watched with amusement as a 'trendy' guy in baseball cap (one of the entertainers from earlier in the event) shouted "Praise God! It's wicked man" at each band member in turn as they walked past him on their way back to the dressing room. After hearing the same phrase for a fifth time, I decided to head back to the dressing room myself. On the way I past Martin's wife Anna and chuckled to myself as another baseball capped trendy stopped her to ask "Do you know Martin Smith? I'm looking for Martin Smith!". Back in the dressing room I said to Tim that it was a shame it was such a short gig (just 7 songs). In fact the show was all over by 7pm. Most gigs don't even open the doors that early and already tonight's crowd were on the way out of the venue. Tim explained that the venue had to be emptied of all equipment before 10 so that Eric Clapton's crew could set up ready for him to continue his run of 7 Albert Hall gigs. Delirious? were getting ready to get back on the bus with their families to head back home to Littlehampton, so after a quick hello to the Thatcher family - and a hand shake with 8 month old Jackson - I headed outside onto a London street still in daylight. Must be the earliest I've ever left a gig.