Kingdom Of Comfort Tour - Southampton
Last modified: 15 Oct 2008
Often when I go to see Delirious? I end up travelling quite a way to get to the venue, so there's something rather nice about only having a 10 minute drive from home to get to a concert. I arrived at Southampton Guildhall shortly before 5:30pm and walked up to the front door only to be intercepted by big-beefy-security-guy. "How can I help you mate?" he asked in that way that really meant "Where do you think you're going? Get out of here before I break your arm". Realising I wasn't going to get very far without a pass I phoned Jon who came and met me at the door and hung a AAA around my neck. Big-beefy nodded and stepped out of the way, I was in. Tree63 had just finished their sound check on stage, so Jon took me on a guided tour of the stage and introduced me to the charming John Ellis, lead singer of Tree. We then had a look around at the impressive production for the tour, including the very cool Kingdom Of Comfort stage props. I grabbed this photo (below) of Jon posing by the bird cage before he insisted on using my camera to take a few shots of me next to the props too (but you don't want to see those photos, right?).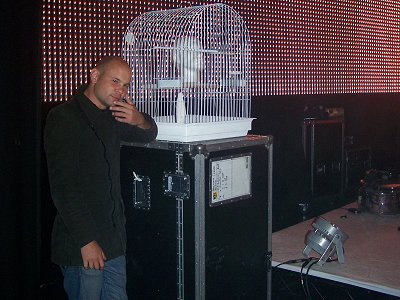 We then wandered back stage to the Delirious? dressing room where Martin, Stu, Tim and Paul were occupying their time on laptops, listening to music or on the phone. We chatted for a few minutes before it was time for Delirious? to do their sound check. I followed them back to the stage and watched and took some photos (the pictures in this blog are all from the sound check). The band spent quite a bit of time rehearsing the transition from God Is Smiling into God's Romance, and then tried God Is Smiling into My Glorious. After a few attempts and a bit of discussion, they decided My Glorious followed on better, so that song was chosen. With Sound Check finished, Stu G decided to play the opening guitar riff of Pink Floyd's Another Brick in the Wall, Paul couldn't resist joining in on drums.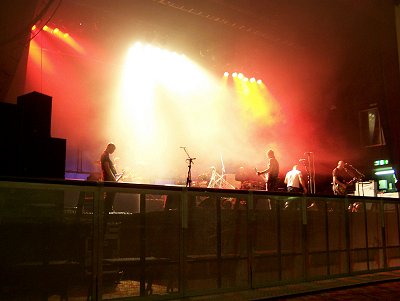 Both bands and what seemed like endless crew members then headed off to the nearby 'Slug and Lettuce' for some dinner. As usual Martin only got about 2 paces from the venue door before getting stopped for an autograph, whilst Jon and Paul walked past untroubled. Over dinner I was amused to witness Tree63 drummer Darryl Swart pull out his camera and start photographing first his plate of food, and then someone else's. "I'm documenting what I eat on tour" he explained! Back at the venue I had a wander around and chatted to Fierce boss JB. We talked about the forthcoming single, and I told him I think this is one of the few times Delirious? have actually released the right song as a single! He was quite pleased to hear that since apparently it was his idea to release Love Will Find A Way. We also talked about the new live DVD (due for release early next year) and some of the plans for Delirious? in 2009. More on that another time.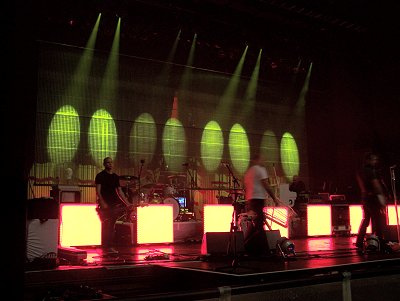 Back in the dressing room there was some debate about how the band should come onto stage at the start of the show. Sound-man Matt had suggested some intro music, and the guys pondered using it, before deciding instead to start with Martin walking on dressed in a gown and crown to sing Kingdom Of Comfort. Next I chatted with Tim who told me that details of the new single had been sent to some 300 media outlets. Nobody knows how much notice they'll take of it, but the single's video (made up of footage from the Ultimate Event and Frenzy Festival) has been distributed to as many places as possible. A little later Martin's wife Anna arrived with two of their children. The kids seemed quite excitable and clearly had a good relationship with the likes of tour manager Ian Cattle and lighting man Andy Hutch, who they've spent weeks away on tour with in the USA. It was nice to see the family oriented approach the band has to touring.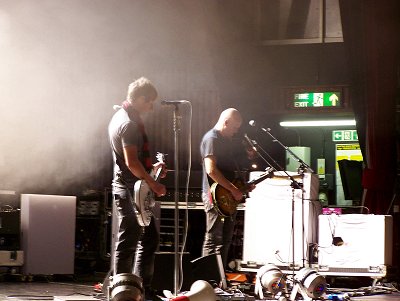 As show time drew closer, the pre-gig pacing around the dressing room stepped up a notch. I chatted to Paul who confided that the hour or so before a show is the worst time, too close to the gig to concentrate on anything, and nothing to do but wait till it was time to go on stage. He told me his parents would be in the crowd tonight. In fact with Southampton being only an hour from Littlehampton, all of the band had their families in the crowd for this show. Other pre-gig entertainment came in the form of the white coats that had been reserved for the crew to wear for the show. Normally crew members wear black to blend into the darkness, but with the 'white theme' of Kingdom of Comfort someone had decided that crew should also be cloaked in white for this tour. The crew didn't seem completely convinced with this concept, and there was some general amusement backstage as they donned their white coats and readied the stage for Delirious? imminent arrival.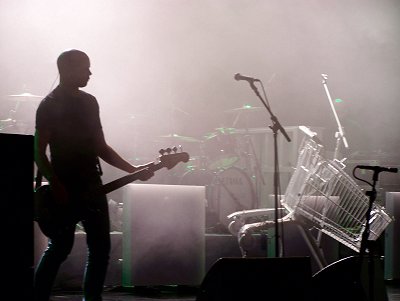 With just a few minutes till they were due on stage, Martin gathered the band together in a huddle whilst Stu said the pre-gig prayer. Then they headed for the stage. I watched from the wings as they walked out in the darkness and the stage lights came on. A deafening thunder of applause and screams came from the crowd. I then quickly headed into the pit to take some photos for a few songs, before returning to the stage wings to watch the show.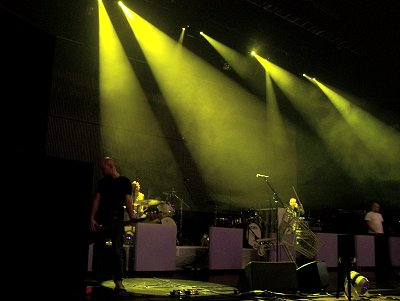 I was stood just to Stu's left, behind his guitar amp, when in the middle of Rain Down I felt a tap on my shoulder. I turned around to see the grinning face of Stew Smith looking back at me! We hugged and tried to chat for a few minutes, but with Stu's amp just a meter away it was hard to hear what each other said. I asked him if it felt strange watching Delirious? on stage and he admitted it did feel a little bit weird. Later I noticed him taking photos of the band with his iphone, a definite proud smile on his face, and a slight nod of his head in the direction of Paul. I made a quick visit to the balcony for some long range photos, before returning to the pit to watch Martin climbing into the crowd during History Maker. The security man in the pit clung onto Martin's leg like his life depended on it. Before I knew it the concert was over, and we were back in the dressing room again. There was a general consensus that the crowd had been incredible and the show had gone well. I left them to meet up with their wives and children backstage, and headed home wondering how many more nights like that I would witness. The sinking feeling inside me knew there wouldn't be many more.