UK Tour Rehearsals
Last modified: 11 Oct 2006
Yesterday I had the enormous privilege and pleasure of going to the rehearsals for the Delirious? UK Tour, which starts tonight in Southampton. I arrived at the Guildhall shortly before 4:30pm and met up with the band who were preparing to sound-check. The venue had already been set up by the crew, boxes of equipment lay everywhere, the lights and the video screen were being tested and before long the band were called to the stage to start their rehearsal. After some sound checking, they began running through the songs they'll be playing on the tour, and trying out a few of the surprises they have in store for the fans this tour.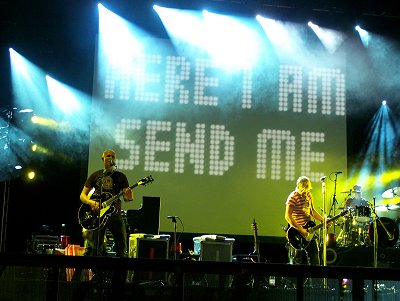 I don't want to say too much and risk spoiling the experience for those of you going on the tour, but I will say this. From what I've seen, I would say that it's going to be more like a 'Show' than a 'Concert'. There are some superb visuals and lights, and some fantastic surprises and things you won't be expecting. It really is going to be one of the most incredible tours Delirious? have ever done.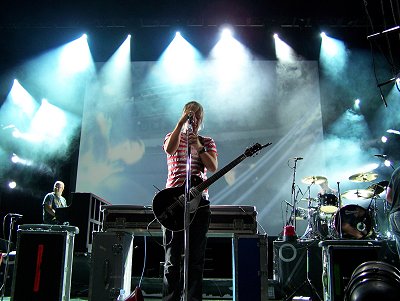 There is a huge video screen at the back of the stage, nothing too unusual there, but expect some very creative uses of some tiny video cameras. The infamous Mr Andy Hutch was on-hand at the rehearsals yesterday, helping to choreograph the whole visual experience. Some of you will already have seen the backing videos that the band have been using lately for the Mission Bell songs. My particular favourite was the Paint The Town Red visual, with bright red silhouettes of the band against black and white city landscapes, brilliantly put together with the lyrics cleverly built into road signs and advertising boards.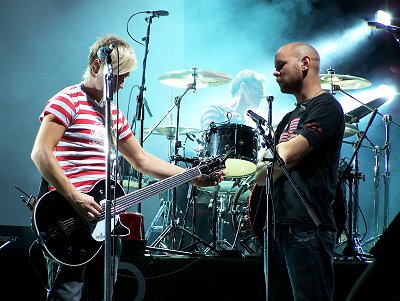 In terms of the music, the band seem to have put together a superb setlist, featuring a few surprise appearances that will keep the crowd happy, and the best that The Mission Bell has to offer. I could spend all day watching Stu G play the big guitar piece at the end of Take Off My Shoes. Simply stunning. The band also have a few new pieces of kit with them, guitars, piano, amps, you name it.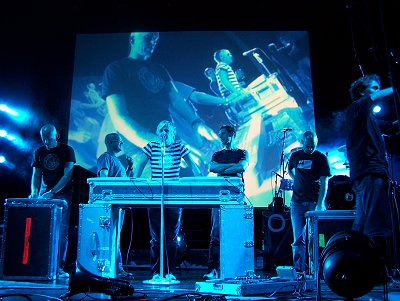 There was a short interlude for some food around 7:30pm (Indian, not Chinese Takeaway) before it was back to work running through some more songs and rehearsing a few bits of the 'show'. By 9:30pm the band were unplugging their earpieces, setting down their instruments and heading home to Littlehampton. The real thing starts tonight. 13 UK Dates, followed by 12 more across Europe. Catch a show if you can - you will absolutely love every minute of it.