Omnisonic Tour - Horsham
Last modified: 19 Nov 2007
So Delirious? are back on tour in the UK with their 'Omnisonic Tour' so on Friday night I headed over to Horsham. My first mistake was planning a route to Horsham based on the postcode for the venue as listed on PuraTickets. I followed the directions provided by the route planner and found myself in the middle of a housing estate. Hmm. I saw Delirious? at the same Horsham venue back in 2005 and I had a vague recollection of a warehouse style venue in the middle of an industrial estate. Somehow this groups of houses did not look familiar. Unfortunately it turns out that PuraTickets had listed the wrong postcode. Luckily for me it was only 5pm. But still, I spent the best part of the next hour driving around Horsham with no idea how to find the venue. As I neared desperation I drove past the 'Smith & Western' restaurant and had one of those light bulb moments where you think "that looks familiar!". I was pretty certain I'd driven past that same distinctive eatery on my previous visit to Horsham. And as I passed it, sure enough there was Tim Jupp escorting his family inside for dinner. With a new sense of confidence I drove on and finally stumbled across the venue.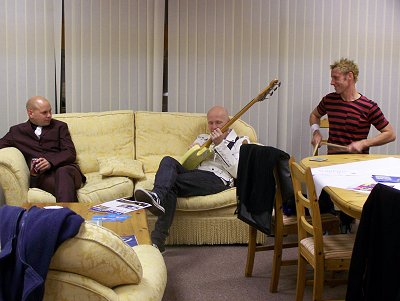 I was met at the door by Tim Green, assistant to tour manager Ian Cattle, who pointed me in the direction of the bands dressing room (aka 'Catering'). I walked in to discover Jon and StuG deeply engrossed in their Mac laptops, Jon concentrating hard on a game of Facebook Scrabble. It turns out my arrival was perfectly timed, as Tim Green then arrived with an armful of Chinese take-away (yes, it would definitely have paid for someone's drugs). After a very enjoyable meal I chatted with the guys for a while. For those of you who have commented on the
Living Room Blogs
, be assured that the band do read the comments. They were busily reading them, with some competitiveness regarding which band member was receiving the most comments (Martin currently in the lead). Oh and if you happened to have been on Delirious.co.uk at that exact time, you may have spotted me on their webcam for a few minutes. Fame at last.

The rest of the band turned up with a few family members and friends and before long it was time for Dave Payne (legendary d: roadie) to say the pre-gig prayer. Then out we marched to the stage. Despite the low ceiling and low stage, the venue looked impressive, tightly packed with an excitable crowd. I stood and watched from Tim's side of stage for a while, before heading to the pit to take some stage photos. Then I move round to Jon's side of stage where I spent most of the gig.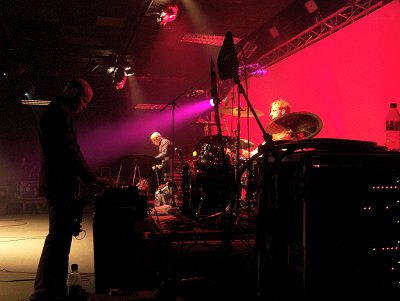 Lee, the d: tech, was kept pretty busy throughout. First of all he had to deal with a troublesome drum, removing it completely for a while to carry out some running repairs. I was amused to watch a drum stick flying backwards out of Stew's hand during one highly energetic piece of drumming. Without missing a beat he immediately reached to his strategically positioned stick bag, pulled out a replacement stick and continued. You wouldn't even have noticed from the front row. He caught my eye as I watched all this, and shrugged at me, pulled a face, then carried on grinning.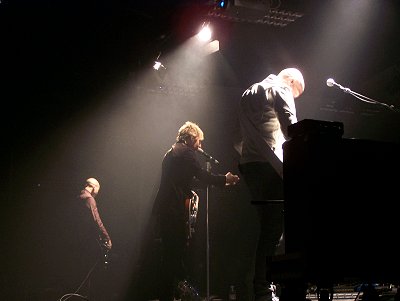 Later Jon's bass suddenly went silent mid song, and he frantically tried a few adjustments on his rig before Lee came striding across the stage, ripped out the cable, swapped it with a different one, fiddled with a few buttons and solved the problem.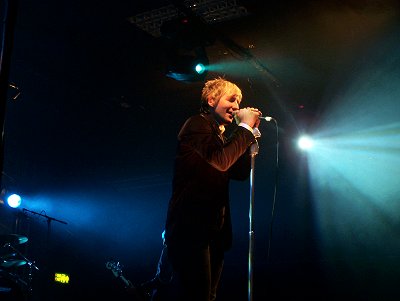 As I stood a few feet off stage level with Jon, I suddenly noticed Jon's wife Kristen and his Dad, stood next to me. Later on a group of d:'s children, led by Stu's daughter Eden, strolled onto stage to dance during Paint The Town Red. Definitively a family night, not surprising since Horsham is only a short hop from their Littlehampton homes.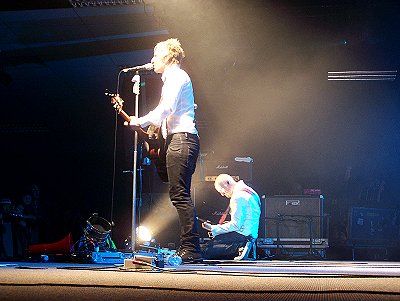 There was some concern among the stewards (for some reason they're never called 'security' at a Christian venue!) when Martin climbed over the crowd barrier with his red megaphone and proceeded to trample onto the shoulders of the crowd - well beyond the safety of the stewards out stretched arms. Somehow he made it back safely, but I feel sure that one day he's going to be swallowed up by a large crowd and not manage to get back on stage in time for the chorus!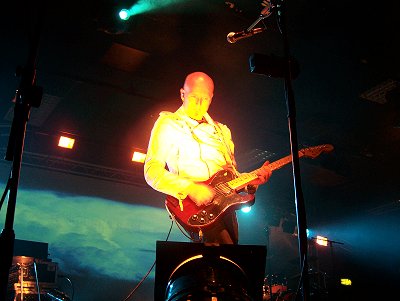 The concert ended with a blistering piece of guitar work from Stu G during Investigate. I watched with amazement as he broke practically every single string in his guitar by the time the song finished. Back in the dressing room I was asked which of the new songs I liked the most. 'My Soul Sings' I said, which prompted Jon to say "You're getting old Dave". Hmm.