Delirious? Enter UK Singles Chart At Number 4 With 'History Maker'
Last modified: 04 Apr 2010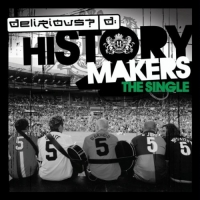 Delirious? have entered the official UK singles chart at number 4 today, 4th April 2010, with their song 'History Maker'. The chart was revealed on the UK's biggest mainstream music radio station Radio 1. Despite Delirious? coming to an end in 2009, a massive Facebook campaign to get 'History Maker' into the charts for Easter has proved highly successful. 65,000 fans joined the group on Facebook.
Two versions of the single were released on 28th March, the original studio version and a live version. All week the songs dominated the Amazon charts, resting at the Number 1 and Number 2 spots in the Amazon MP3 Songs Chart. The single also charted inside the iTunes Top 3 Songs chart. By Wednesday 31st March the song had reached number 6 in the official mid-week charts, resulting in it being played on the 'Official Chart Update' show on Radio 1. On Thursday 1st April the song had continued it's climb to number 5 in the official chart.
Martin Smith was also interviewed live on BBC Radio Five Live during the week to talk about the single, and articles appeared on numerous websites including the BBC and the Daily Telegraph.
Delirious have said they will donate their proceeds from the singles to the CompassionArt charity, to be shared among projects working around the world. The live version of 'History Maker' is taken from the band's up and coming live album release 'Farewell Show', due for release on 19th April in the UK and 18th May in the USA.