Delirious? 'Farewell Show' Live Album Releases In USA
Last modified: 17 May 2010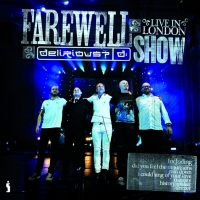 The live Delirious? album 'Farewell Show' is released in the USA tomorrow, 18th May. Recorded at the band's final ever concert together last November at London's Hammersmith Apollo in front of 5000 fans, the album sees one of the UK's most successful Christian bands bow out in style. The album is available in three formats: double CD, DVD and Blu-Ray, and was released in the UK in April.
The double-CD album is over 100 minutes long, featuring 21 tracks. The DVD contains an 85 minute Delirious? performance plus a 34 minute Cutting Edge show. A 25 minute documentary, titled 'On The Road - The Farewell Tour', is also included on the DVD. The Blu-Ray version contains the same content as the DVD but with the addition of a 54 minute interview, titled 'Making History - The Final Interview', providing nearly 200 minutes worth of content in total.
Delirious? recently achieved the highest chart placing of their careers when their song 'History Maker' entered the UK mainstream singles chart at number 4 on 4th April following a massive facebook campaign by fans.