Martin's Wife Anna To Publish Book 'Meet Mrs Smith'
Last modified: 25 Aug 2010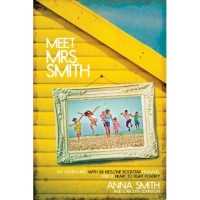 Anna Smith, the wife of Delirious? lead singer and established song writer Martin Smith, is to publish a book giving an insight into life with a rocker. 'Meet Mrs Smith - My Adventures with Six Kids, One "Rockstar" Husband, and a Heart to Fight Poverty' will be published by David C. Cook on 1st February 2011. The 224 page paperback book will retail for £9.95 in the UK and $14.99 in the US.
Co-written with Carolyn Johnson, the book gives Anna's side of living with the lead singer of one of the UK's all time most successful Christian bands. Delirious? brought their incredible 17 year career to an end in November 2009 as they decided to finish the band.
Martin and his wife Anna established a charity called CompassionArt in 2008 which aims to use art to conquer poverty, raising money to help the poorest communities around the world.
Discussing her new book in an interview with Women In Worship, Anna said "Being a wife to Martin has been a fun ride! Highs, lows and the really difficult times. As Delirious families we have been really privileged to see a lot of places and people. Delirious was something that Mart and me were in together so it wasn't just 'his thing' I knew we were a team! And I loved my role as mother and supportive wife. We had a lot of fun. Mart wasn't away longer than 12 days at a time, which felt a long time, but we would have great times when he was here, and I had some great times with the kids and friends when he wasn't! God was in it and I felt his kindness and overwhelming grace".