Delirious? Release 'History Maker' As Download Single In The UK
Last modified: 28 Mar 2010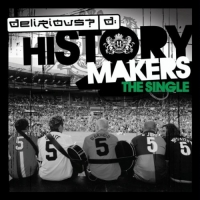 Following a massive Facebook campaign, the Delirious? song 'History Maker' has been released as a download single in the UK. The InvadeTheAirWaves campaign has seen more than 46,000 fans sign up in an attempt to get a Christian song into the UK Singles Chart for Easter. Two versions of 'History Maker' are available, the original studio version and a live version recorded at the last ever Delirious? concert last year. Both tracks cost 79p and are available now on the UK iTunes store where they will both count towards a potential chart position. Fans are urged to download the single between 28th March and 3rd April 2010.
Delirious have said they will donate their proceeds from the singles to the CompassionArt charity, to be shared among projects working around the world. The live version of 'History Maker' is taken from the band's up and coming live album release 'Farewell Show', due for release on 19th April in the UK and 18th May in the USA.
Said the band, "A few weeks back a whole bunch of Christians from Facebook asked us if we could help out and make a Delirious? single available for download this Easter in the UK. How could we say no? Since then the army's been growing, and there are now thousands signed up. If everyone who has signed up to the group buys the single then 'History Maker' could be sitting pretty in the sweet half of the top ten. Some great projects that fight poverty will have greater funds and a whole bunch of people will hear a message of hope and faith at a time when it is needed most."