Delirious? Track 'History Maker' To Be Released As Single After Facebook Campaign
Last modified: 17 Mar 2010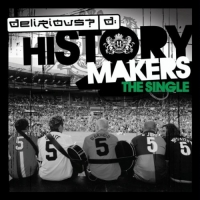 A Facebook campaign to get a Christian song into the UK singles charts this Easter has resulted in Kingsway Music agreeing to release the Delirious? track 'History Maker' as a download single on 28th March. The 'Invade The Airwaves' group were calling on British fans to download the track in an attempt to get Delirious? back into the charts and now the band's record labels Furious? Records and Kingsway Music have announced that two versions of the 'History Maker' single will be available for download-only between 28th March and 3rd April 2010. Fans will be able to choose between the original studio version or the live version taken from the band's up and coming live album release 'Farewell Show', due out on 19th April.
Inspired by the fact that the power of social networking managed to put Rage Against The Machine at the top of the charts last Christmas, the Facebook campaign hopes to get a profoundly Christian song in the news and up the charts at Easter. More than 26,000 people have now joined the Facebook group and Kingsway's press office said "Delirious? have always been about the fans - and that will never change. So we're pleased to do all we can to support them as they continue to wave the flag for a generation. We wish the fans every success."
Delirious? will be donating all their profits from the UK downloads to charity projects supported by CompassionArt.