Delirious? To Release Live 'Farewell Show' Album On CD, DVD and BluRay
Last modified: 10 Feb 2010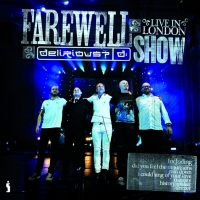 Delirious? will release a live album, titled 'Farewell Show - Live In London', on three formats, CD, DVD and BluRay, with a worldwide release date of 19th April. The album was recorded at the band's final ever concert which took place at London's Hammersmith Apollo on 29th November 2009.
Says Survivor Records, "Sunday 29th November five thousand fans were wedged into a sold out HMV Hammersmith Apollo, ready to see history get made as a seventeen year voyage of worship discovery drew to a close. This was the final gig for Delirious, and there could hardly have been a better celebration of all that God has done."
Shortly after the farewell concert, Delirious? lead singer Martin Smith said, "What can I say? It was awesome, sad, happy, definitive. One can never correctly adjudicate ones emotions at times like this but I feel at peace. I feel joy. I feel like I've completed an assignment."
At the concert the band opened the night as the 'Cutting Edge Band' before returning later as 'Delirious?'. The album will feature songs from both sets, including:
Delirious?:
All This Time / Bliss / Solid Rock / Sanctify / Obsession / Rain Down / Deeper / Paint The Town Red / Inside Outside / Majesty / Our God Reigns / Investigate / History Maker / My Soul Sings
Cutting Edge:
Not Ashamed / Happy Song / Shout To The North / Thank You For Saving Me / I Could Sing Of Your Love Forever / Find Me In The River / Did You Feel The Mountains Tremble