Take Me Away
Last modified: 21 Aug 2010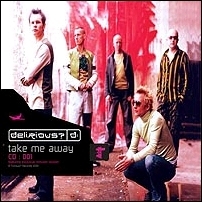 Related Articles:

Released: 23 Jul 2001 UK

Highest Chart Position: N/A

Catalogue: N/A

Format: Digital

Buy CD: N/A

Buy mp3: -
Notes:
Take Me Away was only available as a free MP3 download and was not released on CD.
Bliss (remix)
All songs written by Smith/Garrard ©2001 Curious? Music UK
'Take Me Away' taken from the album 'Audio Lessonover?'. 'Bliss' originally from the album 'Mezzamorphis'.
Related Images: