Farewell Show - Live In London (Delirious.org.uk)
Last modified: 11 Mar 2010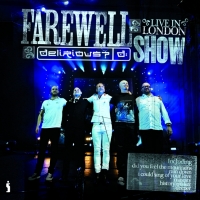 Source:
Delirious.org.uk
Author: Dave Wood
Date: 11 Mar 2010
It was a cold November night in London when the curtains closed on a magnificent career. After 17 incredible years together, Delirious? finally brought to an end a band who have sold millions of CDs, sold out concerts in more than 40 countries around the world, and more importantly been entrepreneurs for modern worship music. Capturing that memorable night as a live album, 'Farewell Show - Live In London' brings back all the emotion of an historic night.
This double-CD album is split between the two sets the band performed that night. They opened the concert as their former selves, the Cutting Edge Band. Somewhat strangely, CD2 of this album contains the Cutting Edge performance despite it being at the start of the concert, whilst CD1 represents the Delirious? set.
'All This Time' opens the album quietly as Martin Smith slowly contemplates his words, "All this time, since the day that I was born I've never known a time like this, I don't want to let you down...". Then in under two minutes it's all change as the trademark screaming guitar sound of 'Bliss' sets the tone for a high octane track, only pausing mid way through for the distorted Stu G vocal section. With barely a pause, and just enough time for Martin to check if the crowd are OK, we're away into the Stu G led funky-guitar sounding 'Solid Rock', plodding it's way along like a steady cowboy in an old western movie. Martin expertly gets the crowd to join in with the 'ohh ohh' bits, while his megaphone adds another reminder of this brilliant live song.
To most Delirious? fans 'Sanctify' will always be remembered as a song accompanied by a sea of arms waving in time to the organ styled opening. Martin's vocals seem to genuinely cry out to God as he sings the chorus, "come to me, rescue me, fall on me, with Your love". The song comes to a complete standstill, with the silence quite movingly left for all to appreciate, before the gentle applause and cheers make way for the stunning drum and bass heartbeat of 'Obsession'. As the eerie keyboard sound echos hauntingly around, the hushed prayerful song begins. This stunning track is so crammed full of emotion that it could quite literally reduce a grown man to tears. As the guitars really start to take hold in the later stages, the quietness is replaced by a loud outpouring of desperation: "and my heart burns for You".
"Do you want to go Deeper?" demands Martin as the song that really registered the band as serious contenders on the secular stage rockets in to life. The words are clearly known so well by the crowd that Martin barely bothers to sing the opening verse, preferring instead to leave the fans to sing this classic Delirious? tune. Crowd participation is never more evident than in 'Paint The Town Red' as the "Ohhh here we come" football style chants get the full treatment from this hungry London crowd.
Stu's brilliant vocals on 'Inside Outside' are maybe a little too quiet and echoey, slightly lost in the vastness of the venue, but not enough to diminish from this excellent song which is shared with Martin, back and forth like a well rehearsed double act. Musically this song has to be up their with one of the band's best. The pounding drums, the unmissable guitar riffs throughout, the fabulous lyrics and vocals, reverberating bass and and perfectly weighted keys backing up the song. It is all evidence of a band at their best.
At the start of 'Majesty' Martin urges the crowd to sing their hearts out, and they certainly do. Sounding more like a choir than a crowd of fans, this ultimate worship song has so much depth from start to end. The first time the chorus is sung, it is sung entirely by the crowd. The hairs on the back of my neck jumped to attention as I listened. It is pure electricity. The vision of a room filled with hands raised to God came flooding back to me.
For those who were at the farewell show, you will know that 'Investigate' saw a return to the band line up of founding member Stew, who departed as the band's drummer a couple of years ago. "I want to introduce someone very very special... Mr Stewart Smith" announces Martin as Stew arrives on stage. If one song showcases the band better than this one, then I don't know what it is. All the elements can be found here, working together perfectly like parts in a well maintained machine. Stu's guitars are almost on fire at times as he takes the reigns and unleashes a stunning guitar masterclass. Nobody does it better than this man.
'History Maker' is like Delirious' resume. The words aren't so much about the band themselves, but more the lesson that they have spent a lifetime trying to instill on their loyal following. If the voices singing "I'm gonna be a history maker in this land" are anything to go by, then it's also one of the most popular songs the band ever produced during their time together. At 10 minutes long it is worth every second of its place on this amazing album. As the song stretches on, Martin leads the crowd in a chorus of "Holy is the Lord".
Ending the first disc is 'My Soul Sings' which is one of the band's more recent tracks and also another remarkable worship ballad complete with earnest lyrics, beautiful guitar riffs and a beat that could topple walls. Opening the Cutting Edge disc is 'Not Ashamed', a boisterous, head nodding, confident declaration of faith. The cheese-bordering, mandelin-fest, country-dancing enigma that is the 'Happy Song' comes next. If nothing else it's certainly fun and contains perhaps one of my favourite lyrical lines, "If only we could see Your face and see You similing over us, and unseen angels celebrate for joy is in this place".
It's amazing to see a run of songs that have been popular with many church congregations around the world for so long finding their way into the setlist at a concert like this, whilst still not seem cringe-worthy. 'Shout To The North', 'Thank You For Saving Me' and 'I Could Sing Of Your Love Forever' have all never sounded better than on this recording. 'Find Me In The River' also really stands out as a simple, beautiful song that you could imagine singing through tears, with its moving guitar tones floating around like a mist. It's probably the highlight of disc 2, which is testament to the emotion that seeps out of the music and words alike. 'Did You Feel The Mountains Tremble' is just such a huge song and is another track sure to bring goosebumps to your skin as Martin sings "Fling wide you heavenly gates, prepare the way of the risen Lord". It finishes off the second disc in exhilarating style.
I probably didn't expect to enjoy the second disc as much as I did. Sometimes older songs can be discarded too easily, and hearing them again now, performed with such power and depth of feeling, sounding musically better than ever is something truly to behold. This album is basically the Delirious? greatest hits performed live, and since many people long since came to the conclusion that the best way to appreciate this band is in their natural habitat - the live concert - what better album could any fan of top quality christian music hope for?